Let's have a
Women in Tech
CoffeeCodeBreak is a mentoring and networking platform for women in tech. Not all of us are able to find mentors in our own environment. We know that it takes courage to approach strangers and ask them for their time and advice. And this is exactly where we come in. We are there for you as mentors and peers and we are happy to offer you free mentoring and networking sessions, which you can book flexibly and without hesitation.
<3
Our Vision
We want to live in a society where women are unquestionably on equal footing and are trailblazing developers of technology and innovation.
This borderless society acts in a fair, inclusive and sustainable manner. Together we harness the power of diversity to improve our quality of life collectively and tackle the biggest global challenges.

What does this mean for CoffeeCodeBreak?
We aim to establish a new vision in 2030, because by then our current vision will be reality.
We embrace diversity
We embrace diversity and understand that promoting all voices leads to better results.
We aim to make the tech sector a welcoming home for everyone.
In particular, we believe Tech has no gender and we actively prove it.
We are supportive
We want to empower each other to grow professionally and personally.
Together we aim to lower entry barriers and to overcome challenges for women in tech by sharing our knowledge, experience or network.
We inspire
We seek to inspire each other and show the possibilities and beauty within the tech world.
We are passionate about you and about our network. We celebrate all the female pioneers making an impact in tech and changing paradigms.
We join the change.
We are authentic
We truly believe in our vision and proudly strive for it.
We act compassionately and accept our true selves.
We encourage each other to follow our own path to individual success.
We share ideas honestly, with an open mindset, and are ready to iterate and improve.
Our Mission
'We aim to empower Women to enter Tech, grow in Tech and succeed in Tech through Mentoring and a strong, open and inspiring female Network.'

With a share of less than 25%, women are still severely underrepresented in the Tech industry. With CoffeeCodeBreak we would like to
contribute to more diversity in the Tech sector
. Not only for more
economic equality
. We firmly believe that our future needs
more inclusive digital products
. And these are created when women are involved in their development.
We are guided by role models and tend to follow a similar path when we feel empowered to do so. Research has shown that
mentoring for women by women
has a
positive influence on self-confidence, sense of belonging, career planning and professional success
. Female role models and mentors in the Tech sector are therefore one of the keys to more diverse teams. They can inspire, motivate to persevere and provide access to valuable resources.
To start here, CoffeeCodeBreak
connects mentees and mentors in the Tech sector
in an uncomplicated way and offers the opportunity to build a
supporting women in tech network.
<3
The story behind
Hi, my name is Caro.
Actually I initiated CoffeeCodeBreak because I myself lacked mentors and a professional network.
I noticed the whole thing when I was in the absurd situation of listening to one women-in-tech podcast episode after another to gain the necessary self-confidence for a challenging situation at work. I simply lacked role models and real mentors with whom I could have directly talked.
Nothing against podacasts - I'm still very grateful for every interview that helped me master the situation. Nevertheless, a real conversation would have been the more efficient and less unidirectional way to find the solution to my specific challenge.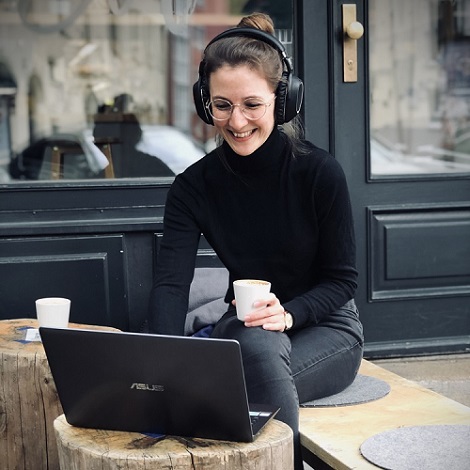 Looking back, it is not particularly surprising that I lacked a network of supporting women. Women are outnumbered in technical universities. There are only few visible female role models in the tech sector. I have also observed again and again that men seem to find it easier to build networks. I have had the experience of being accepted in male-dominated networks, but often not really integrated in the end.
However, it has been shown several times that networks and mentoring can have an enormous influence on our professional success. And that is why we need stronger women's networks.
For a long time I believed that I had to do everything on my own. Whether this is related to me or my experiences described above, I cannot say exactly. I didn't realize how much people enjoy sharing their knowledge and experience. Most people feel very valued when they are asked for help. Usually it is even the case that mentors themselves gain valuable insights through the change of perspective.
The more women in Tech experience this appreciation, grow through it and become visible, the more role models we have. And the more role models we have, the more self-confidently other women take a similar path. That would be great, not least because tech is just fun - and fun gets even more fun when you share it!
For these reasons, it was obvious to not only solve the issue for myself, but to build a platform that can also be used by other women to share their experience and build a network.
Today, CoffeeCodeBreak is a non-profit organization run by a great core team. Thank you for your passionate efforts, Mira, Xenia, Paula, Lara, Sima and Annika!
<3